As we believe that the future of mobility involves digitalisation, we developed several online tools for our clients. VIIA & You and VIIA + give you easier access to multimodal transport and help you in your daily work.
VIIA & You is your client centre where you can manage train reservations
On your VIIA & You space, the interface which connects you to our dedicated customer service team, you may reserve spots on the train, manage your reservations, follow the traffic in real time, monitor your performance, and more in just a few clicks.
All activities related to rail motorways are regrouped on a single platform:
Reserve:
Create, modify, and view reservations.
Monitor:
Get statistics on your usage of our services.
View your bills.
Get informed:
Access information about the state of railway traffic in real time.
Keep precise track of where your semi-trailers, containers, and mobile body shells are.
Find all of the practical information about the terminals: maps, business hours, and services offered on site.
Contact services:
Easily find a team to help you: sales department, client services, and sales administration.
Would you like to know more about VIIA & You and our services?
CONTACT US
Already a client?
LOG IN
VIIA +, the first multimodal freight exchange platform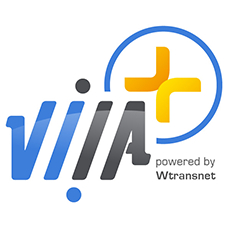 VIIA+ is the collaboration platform for rail and road transport which enables you to benefit from the advantages of multimodal transport and interact with other carriers.
Multimodal traffic flows are unique in that they are based on balanced flows going both directions. The goal of VIIA+ is to increase communication between people who use our services and facilitate the search for road transport solutions from terminals and/or for reload solutions. This tool was developed in partnership with Wtransnet, a leader in the development of freight exchanges and online systems for supplier management. VIIA+ is available to all carriers, whether or not they use our services. It helps you balance your flows so that you take full advantage of multimodal transport.
Carriers
Switch to multimodal transport without having to invest in specific equipment.
Find new business opportunities in the traction sector: containers and semi-trailers are waiting for you at VIIA terminals.
Use alternative solutions for international transport.
Put your tractors and semi-trailers on the Regular Trips Exchange (Bourse de Trajets Réguliers) and establish lasting ties with others for your regular trips.
While your semi-trailers travel by train, your drivers can perform short-distance transport jobs.
Logistics Operators
Be part of an efficient and lasting mobility network.
Find traction solutions for your semi-trailers or containers leaving VIIA terminals.
Optimise return trips for your semi-trailers, containers, and mobile body shells.
Find stable partnerships by using the Regular Trips Exchange.
Want to learn more about VIIA+ or register?
Click here
Already a VIIA+ user?
Log in