Help Brazil in reforesting the Amazon
VIIA also wants to help communities that are directly impacted by climate and environmental issues, but who have limited material and financial resources to cope with them.
It's part of our solidarity-based approach that's sensitive to the global aspect of climate issues. We need to be united in order to face the environmental challenges of the future together!
To ensure that its funding will be effective, VIIA has decided to support a certified project (VCS Certification).
After an internal vote, VIIA employees decided to support Portel's Floresta project. Northwest Brazil is home to one of the most diverse ecosystems on the planet. Unfortunately, it suffers from an ever increasing rate of legal and illegal deforestation. The project is designed to protect this ecosystem by deterring and preventing unplanned deforestation, allowing the forest to regenerate naturally. The Amazon is home to 20% of the world's fauna and flora and captures between 60 and 80 billion tonnes of carbon.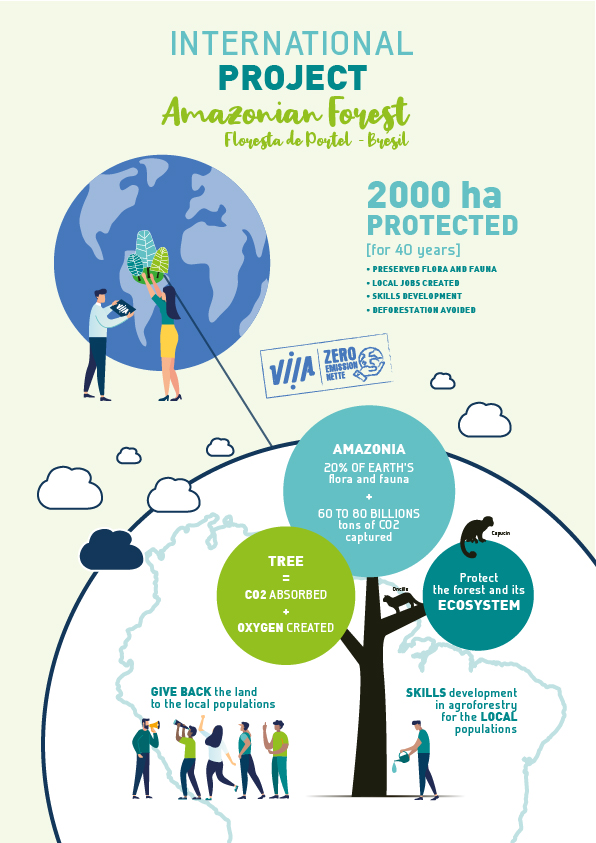 With the help of VIIA, 2000 hectares of forest will be protected. Portel's Floresta project will also make it possible to:
Protect and preserve fauna and flora
Create management and monitoring jobs for local communities
Improve the quality of live for the local population
Expand our knowledge of agroforestry techniques and land law