On July 15th, in the context of a television report on Van Overveld, our Le Boulou terminal was shown on TV.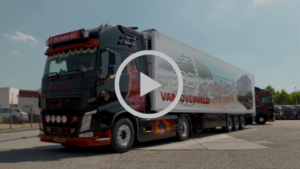 Van Overveld was put under the headlight to celebrate  its 30 years anniversary and to show its sustainability methods (by using LNG lorries and transport by rail via us).
The company has been working with Lorry-Rail from the start and is now covering mainly the NL, PT, ES and FR. They ship about 15 trailers per week with us as well as some containers.
Thanks to the Le Boulou team for their support! Click here to see the video. The images from Le Boulou are from 3:57 onward