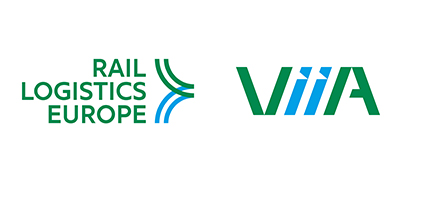 Since 1 January 2021, the "Rail and Multimodal Freight Transport" (TFMM) division has become Rail Logistics Europe (RLE).
This brand reflects the international and multifaceted nature of our activities. This shall help us to be acknowledged as a benchmark partner in the French and European markets, in order to speed up a change in transport mode and turn rail into a sustainable and essential solution. The visual identity of the logo summarises this ambition:
– The rails are reminiscent of our core business and meet to form an arrow that is suggestive of the complementary nature of the various companies' activities and of the forward momentum.
– Green underlines the inherently ecological nature of our activities,
– the light and bright blue represents the sea and the sky of the planet that we need to protect.
The development of rail freight in France is a major challenge of our commitment to increase decarbonisation: reducing our CO2 emissions by at least 55% by 2030 and reaching carbon neutrality by 2050. What with its scope, its territorial reach and its expertise, Rail Logistics Europe intends to play an active part in fighting global warming.
To ensure legibility and consistency, all the companies that operate in the rail logistics sector (Fret SNCF, the Captrain Network, VIIA, Forwardis and Naviland Cargo) were asked to revisit their visual identities with a view to reinforcing the values we all share.