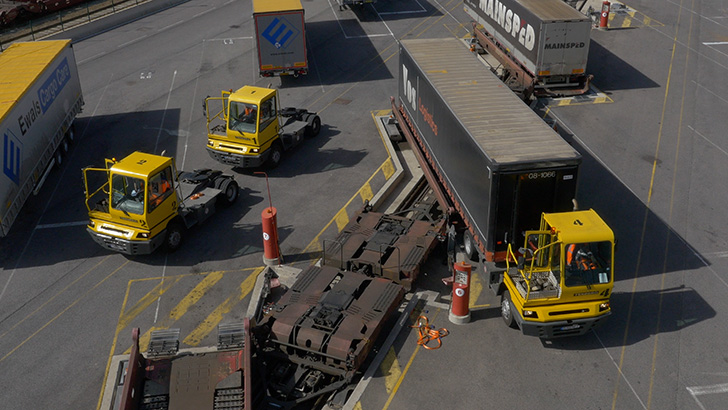 Rail motorways are in full expansion, and every line opened is a new opportunity not to be missed for European road transporters. On 12 January 2016, VIIA will launch its new VIIA Britanica service between Calais and Le Boulou, connecting Spain to the United Kingdom. Other projects are expected to be launched soon.
1 – Last July, the Port of Barcelona announced the launch of a rail motorway between Barcelona and Paris in 2019. What does that mean for VIIA?
You know that for several years, VIIA has been a symbol of our interest in developing Rail Motorways leaving from Barcelona.
The Port of Barcelona and competent authorities of Catalonia announced wanting to build a rail motorway terminal in Barcelona during a press conference on 31 July this year. This represents a major step forward in the development of a European rail motorway network.
The aim of the conference was to announce the construction of an intermodal terminal for semi-trailers at the heart of the Port of Barcelona by 2019. According to Santi Vila, this terminal would enable the Spanish market to further open up to the rest of Europe.
Currently, just 2% of goods going from Spain to Europe travel by rail. By increasing this ratio, the new terminal is expected to increase Catalan and Spanish competitiveness, stimulate the goods transport sector, and reduce CO2 emissions by several tens of thousands of tonnes per year.
With this announcement, the status of Rail Motorways has gone from a known system to a recognised one, which is a significant advancement in the development of rail freight in Europe.
We are already experiencing this change in Northern Europe with the construction of the new Bettembourg terminal, which has the capacity to handle 300,000 semi-trailers and 300,000 containers per year. The terminal is expected to be operational in the first semester of 2016.
2 – You recently announced the launch of VIIA Britanica between le Boulou and Calais. What opportunities does this new line bring?
VIIA Britanica is the 3rd line launched by the Group, after the AFA and Lorry-Rail. The commercial launch is set for 12 January 2016 and tickets are already being sold.
With its two round-trips a day, this line represents an important step forward for VIIA, which will pass the mark of 100 train trips per week on 3 lines.
Just looking at the number of Spanish trucks in Calais is enough to know that England is a major destination for Spanish road transporters, all sectors combined. Refrigerated transport represents a large proportion of this activity. Retail leaders in the United Kingdom have a high demand for sustainable, innovative transport solutions.
Once again, the commercial success of this line will depend on the capacity of the market to organise itself and create balanced traffic flows using our services.
This said, transit time, easy access to the Port of Calais, the frequency of departures, the integrated RoRo Rail offer, and the inherent increase in productivity through the Unaccompanied travel model make VIIA Britanica an innovative, relevant offer on the market.
Several road transporters, including some who use our other lines, have already confirmed their commitment to our offer.
In the case of VIIA Britanica, the rail offer is only one component of the unaccompanied transport service. It is part of the Port of Calais' plan to develop an offer for unaccompanied transport, and of the maritime companies' efforts to offer new services to England and Nordic countries departing from Calais.
Therefore, this is not just about the new Calais – Le Boulou line. The larger scheme is the reflection leading to the reorganisation of traffic flow and logistics around Calais.
A closer collaboration between rail and maritime companies is inevitable, and this trend will continue to grow in the near future, as it meets both parties' needs to secure volumes, especially in the starting phases. But above all, it meets the needs of the market, and of road transporter and logistics operator clients, as it offers an integrated solution from start to finish.
3 – What conclusions do you draw from the first semester of 2015, and what is your vision for the development of your multimodal solutions?
We have good reason to be satisfied with the results of the first semester of 2015 which are in line with our objectives, namely regarding the refrigerated transport sector, of which we developed solid know-how.
Many still think that the reason rail transport in Europe represents such a small proportion of all transport is the lack of demand, namely from road transporters. I am among those who believe that the problem is a lack of supply, therefore we are working hard to quickly be able to offer more lines to make up a high-performance network, and higher train frequency, on the basis of our model.
Shipping and transport companies know that intermodality unquestionably is the future. In fact, more and more of them are getting involved alongside us, including in Eastern European countries.
It is up to us, as a railway operator, to offer increasingly reliable solutions which most closely match the market's strict demands while continuing to break down the obstacles to rail transport accessibility.
This involves "collaborative multimodal transport". We founded a Community in 2007 which keeps developing every day.
Every day, our clients talk to each other about optimisation, and shipping and transport companies come together around a recognised solution which provides economic and environmental optimisation.
It is up to us to support this Community in its natural development, coordinate it, and follow up on its projects, through innovative digital tools (for example, VIIA+, the first multimodal freight exchange) and dynamic commercial offers.