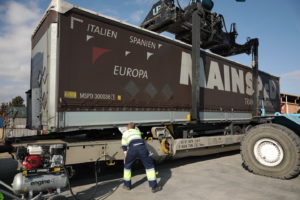 Lorry Rail, subsidiary of SNCF group, CFL and Lohr industries has launched operation of a new line connecting the Barcelona Can Tunis and Bettembourg (Luxembourg) intermodal terminals on 19 February 2019. It is the 5th rail motorway operated by VIIA Lorry Rail for transporting unaccompanied semi-trailers.
This opening is a first in Spain. The Barcelona–Bettembourg line is the first rail motorway from Spain and also represents the first time P400 semi-trailers are to be loaded on to trains departing the Iberian Peninsula.
Upon launch of the service, there will be five weekly round trips between Barcelona and Bettembourg, across a distance of 1,219 km. The train will be completed by some wagons loaded in Perpignan to benefit from the French and Luxembourgian convoys' capability. From April 2019, the new rail motorway will run six round trips per week, with an estimated journey time of 22 hours.